OVERVIEW
This project was focused on designing for and with the CMU community to address peoples' needs in discovering information about the CMU Escort Bus Service. The CMU Escort Bus Service operates from 6:30pm-6:30am and is aimed at keeping CMU students and faculty safe during night time hours. Through the course of this project my research team and I established connections with the community to ensure that we effectively understood the problem space and created solutions that fully addressed the needs of the community.


Working with the CMU community to improve the discoverability and usability of the escort bus system.
THE PROBLEM
The escort bus application, stop signs around campus, and the website fails to provide information that people need to know estimated arrival times and where the bus goes.
HOW WE APPROACHED IT

Research and feedback were incorporated at all stages of the project. By pairing more objective research methods with subjective methods such as conversations with bus users, we were able to work closely with users to create solutions that truly addressed their frustrations and needs.


DESIGN CHALLENGE
How might we reduce anxiety for people traveling back home late at night from campus?


RESEARCH
Understanding how the Escort Bus Service operates and how people currently use it.
Research with a purpose.
To truly understand the people we are designing for- every piece of information that we obtained was important to our research. We committed to researching with intention and went out into the field to conduct primary and secondary research.
Designing for Emotion
Although riding the bus is peoples' go-to option in terms of convenience, we learned that people would prefer other modes of transportation because of the unreliability of the bus app + bus signs which made people feel unsafe while waiting for the bus.
We storyboarded many concepts including a student ride-share program, a student buddy system, and a redesign for the current app and went out in the field to speed date these ideas for feedback.

Feedback From Users

Both ride-sharing and buddy systems relied heavily on CMU students and this did not necessarily spark much more confidence in users feeling more safe. Additionally, it would be hard to get these programs started and known by the CMU community. People liked using the bus if it came on time and getting on the bus inspired a feeling of security. Therefore, we decided to focus on the app redesign.

Usability alone is not enough.

This meant that focusing on usability and functionality was not enough. People were ok with using the bus system, it was only when they waited a long time for the bus that they felt unsafe alone outside. Since so much of how they felt was determined by the bus app - it should act less as a short information guide of the buses hours of operation and more as a real-time guide for users to know how to plan their nighttime schedule.



1. Ride-Sharing System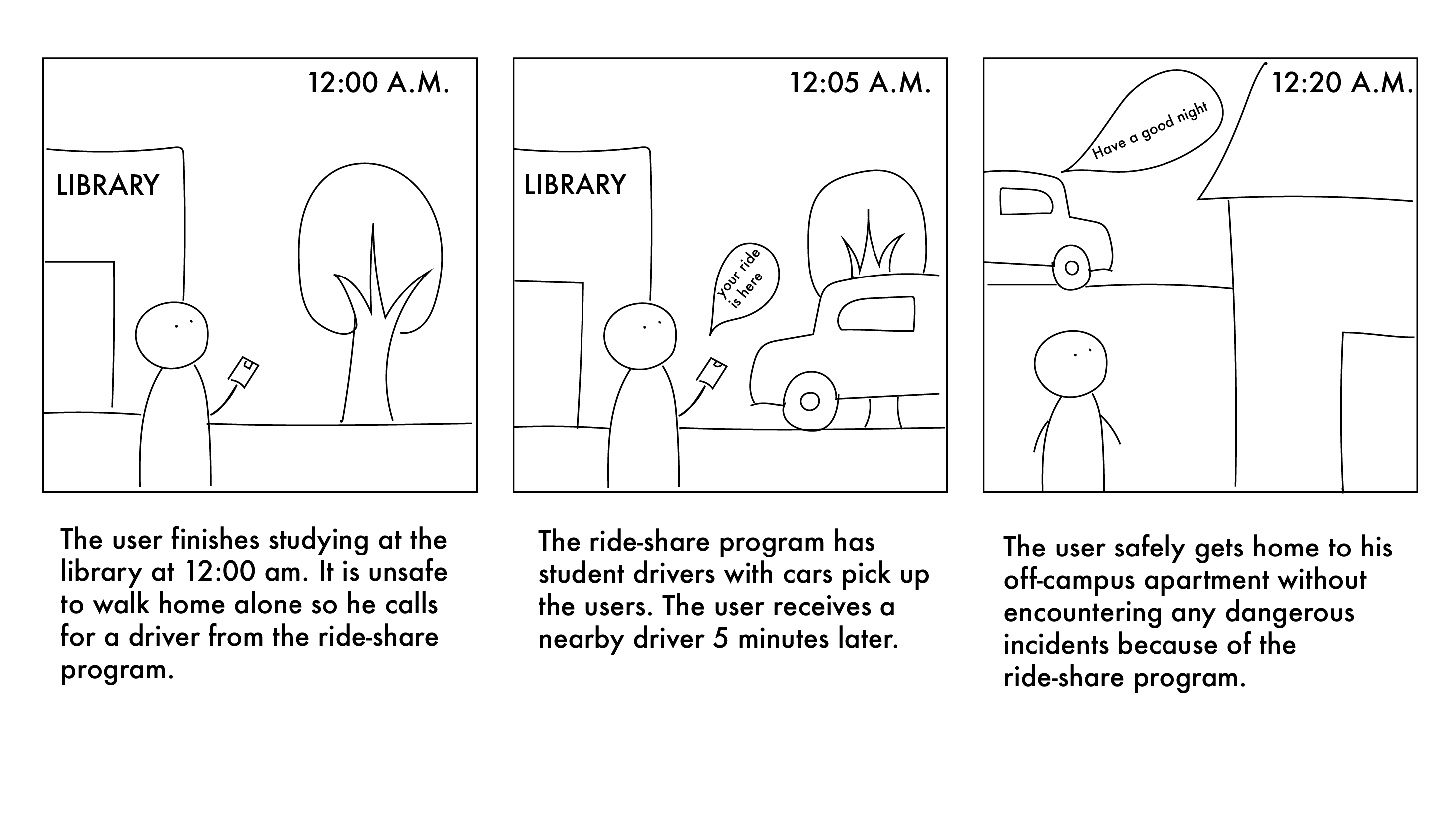 2. Buddy System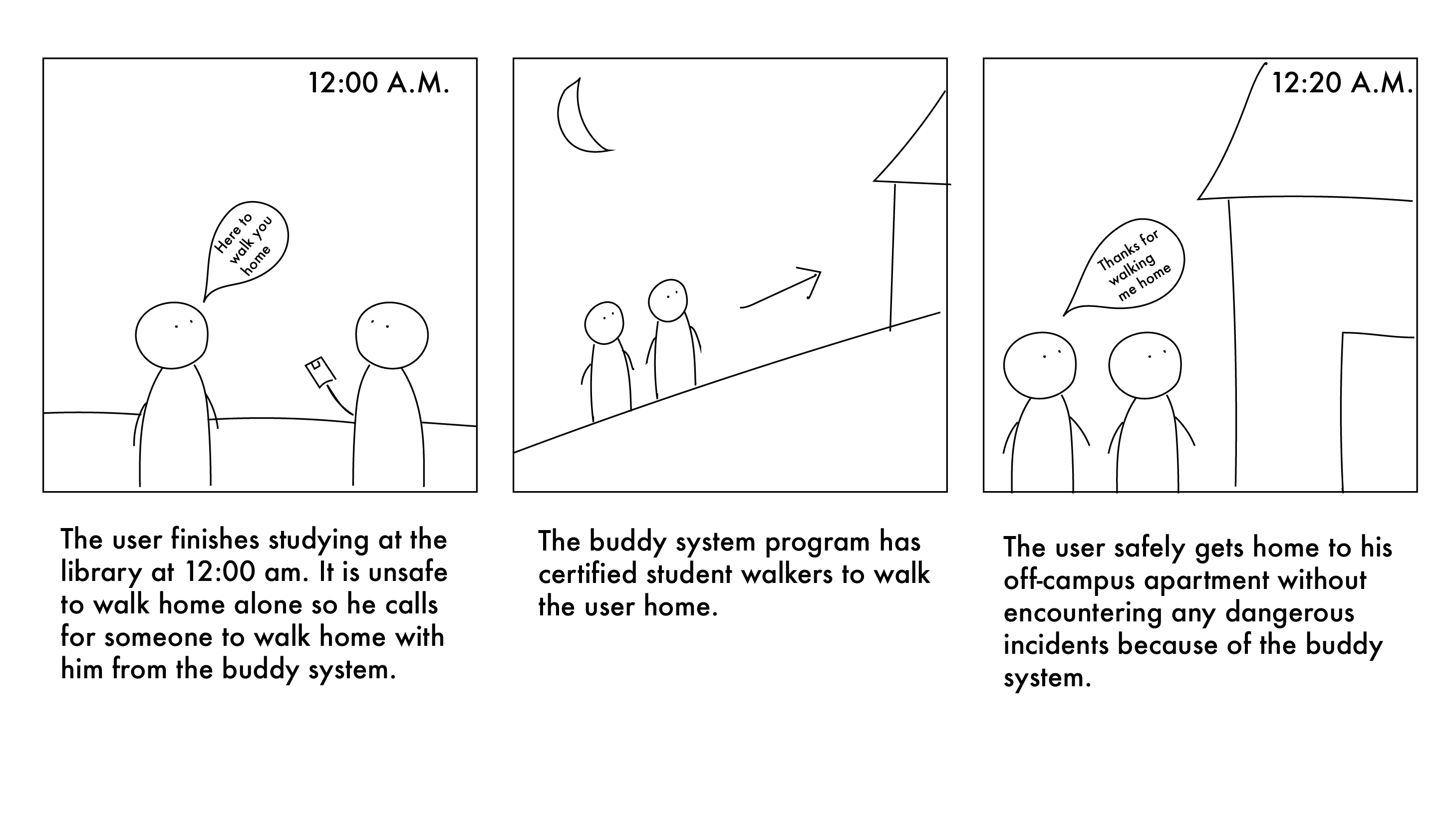 3. Bus App Redesign
IDEATION
A range of ideas focusing on utility and emotion.
DESIGN PRINCIPLES TO GU

IDE D

ECISIONS
Simple and Quick ︎
Flexible and Adaptable ︎
Built for Everyone ︎
USER TESTING
Validating decisions through a feedback loop with the CMU community.
At this point, we wanted to see if there were any more pain points that we did not address and how people interacted with the actual interface.
THE NEW ESCORT BUS APP
Simple, quick, and personal
The new and improved escort bus app helps commuters easily find estimated arrival times, escort bus stops, and has a real-time bus tracker map.
Stay Informed
CMU Escort Bus informs the users of all the information that they need so they can make the necessary adjustments to their night-time schedule to get on the bus in time.
Co-designing with your user

Through this project, we realized the importance of constant feedback from users and from each other. Working with the people we were designing for helped us see the value of a truly human-centered design approach. Lastly, we were able to come up with a value proposition with regard to the user and the CMU Police. Users can easily commute to and from campus and the CMU Police will be able to reduce the number of night-time incidents near campus.