CMU Bus System Redesign
The primary focus of the design of CMU Safety Escort is to safely transport CMU faculty and students off campus, usually back home. With a mobile application, users will be able to help commuters easily find estimated arrival times and capacity of the bus.

Information Architecture

Secondary Research
To understand the current problem of why the escort bus service was not being utilized by students and faculty, I consulted the CMU Police, who manage the escort bus service to learn more about the escort bus service and also read about the service on the official website. Some key findings were:
1. The escort bus drivers handwrite the estimated capacity of each stop but it is not shown in the application.
2. The escort bus takes requests of where to stop off campus (such as apartment complexes).
Primary Research
After understanding more about the background of the escort bus system, I surveyed students and faculty to understand what they know about the escort system and their thoughts on how it can be improved.

From the research and primary model, I identified two opportunity areas that the escort bus service could focus on improving:
1. Users & Time Management: Majority of users have time constraints that they operate on, whether it is going to CMU for a meeting or class or going back home from CMU.
2. Users & Safety: Users may be traveling home at late hours by walking because they do not know how to use the bus or do not know how long it will take the bus to get to the bus stop.
Ideation
Out of multiple concepts, three concepts were chosen and storyboards were created to take to the field for speed dating.




1. Ride-share Program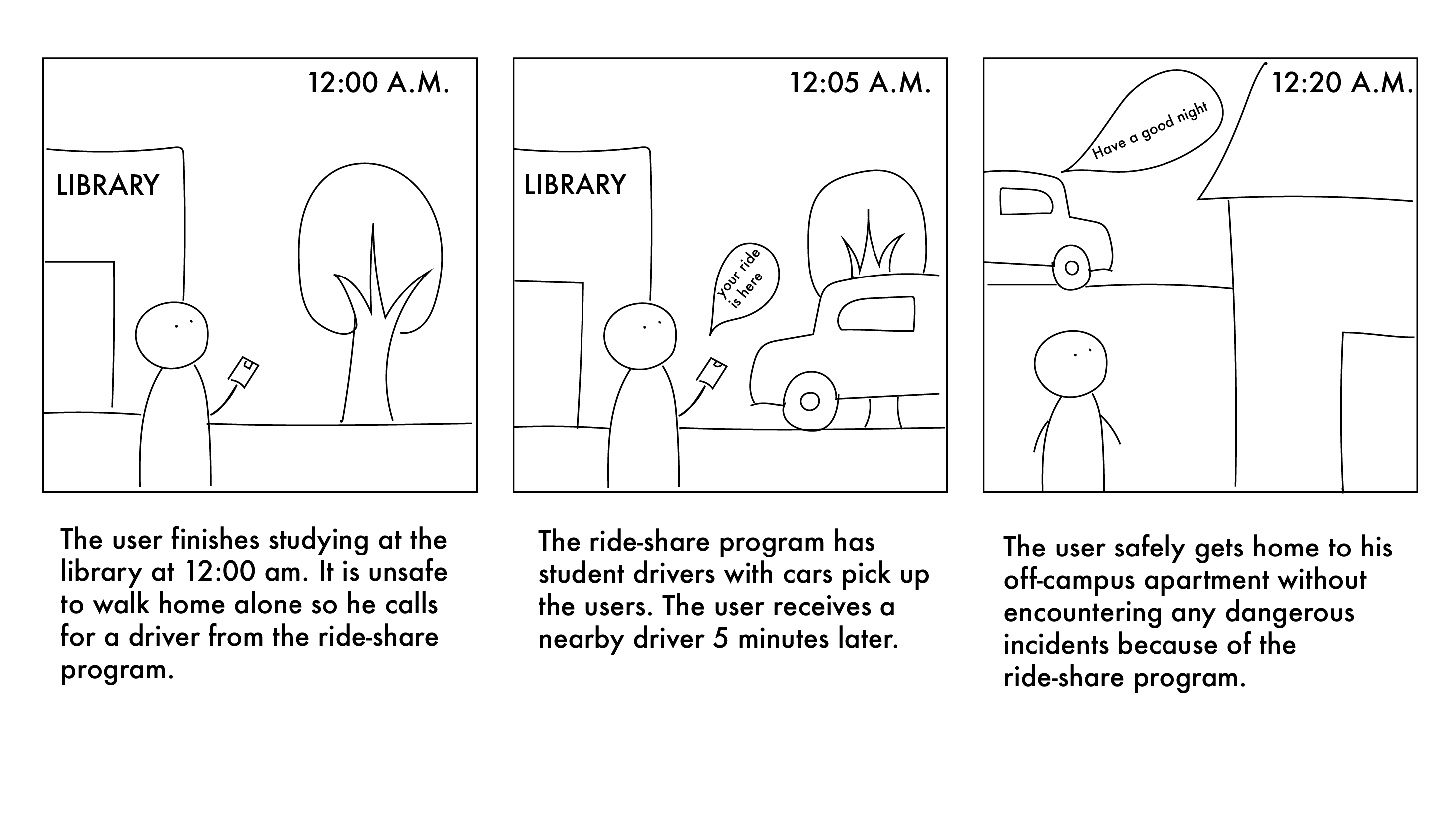 2. Buddy System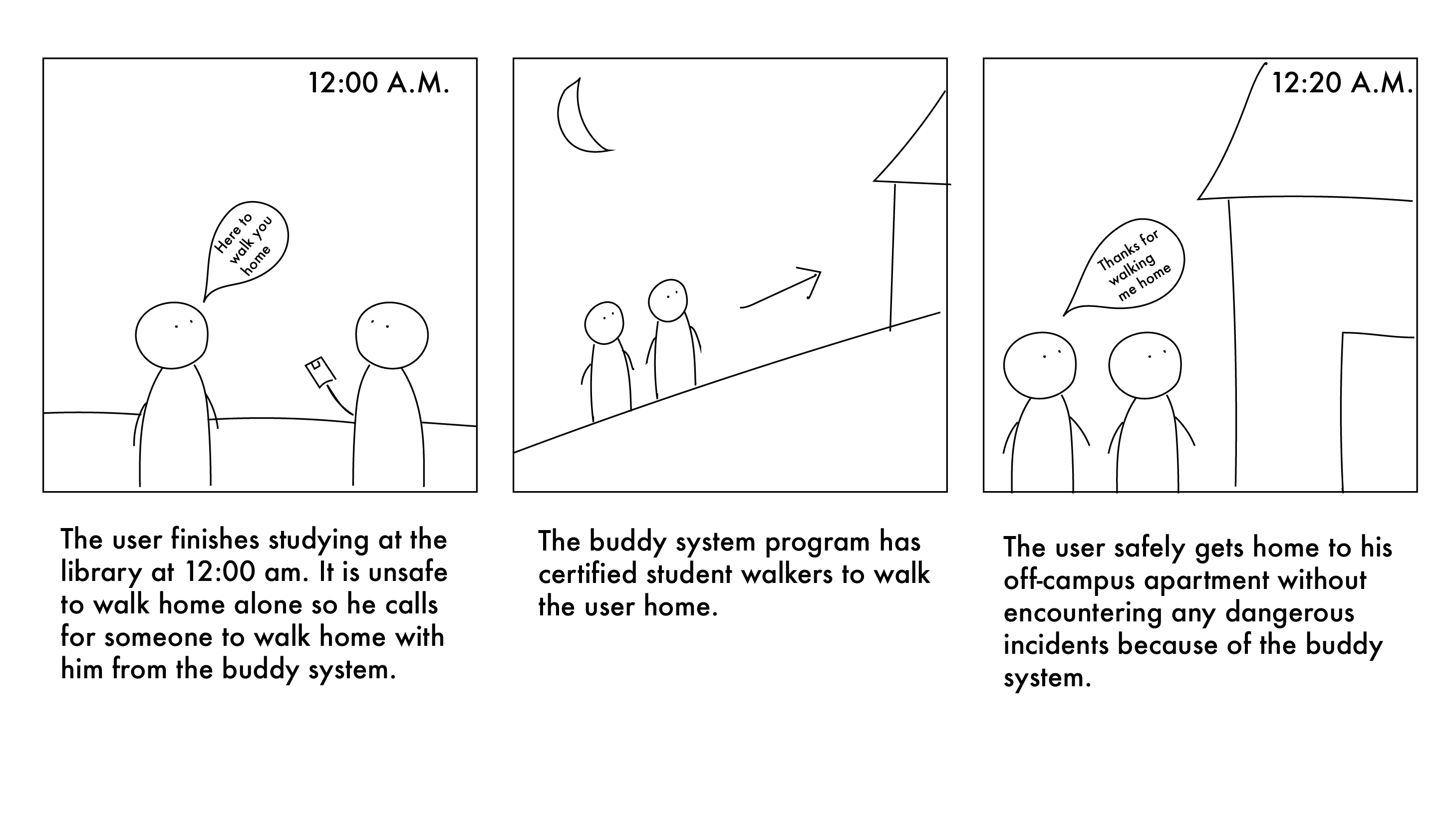 3. Updated Transportation App

Feedback
1. Ride-sharing relies heavily on CMU students with cars → what if there are no available students to drive in the program
2. Students need to go through the proper processes to obtain certifications/licenses to become a walker in the buddy system or ride-sharing program driver
3. Does not take full advantage of resources that CMU already provides
︎ Question: What if there are not available students to drive in the program?


︎ Question: How long will it take for students to obtain licenses?


︎ Question: What about the already employed escort bus drivers and the current application template?
Revising the Concept
After receiving feedback from survey participants, I narrowed the solution to focus on transportation app modifications to take full advantage of the existing system. The reasons for this included:
1. There are already safety protocols put in place by CMU Police.

2. The existing system is more reliable than a student supported system such as the buddy system or the ride-sharing program.
Final Design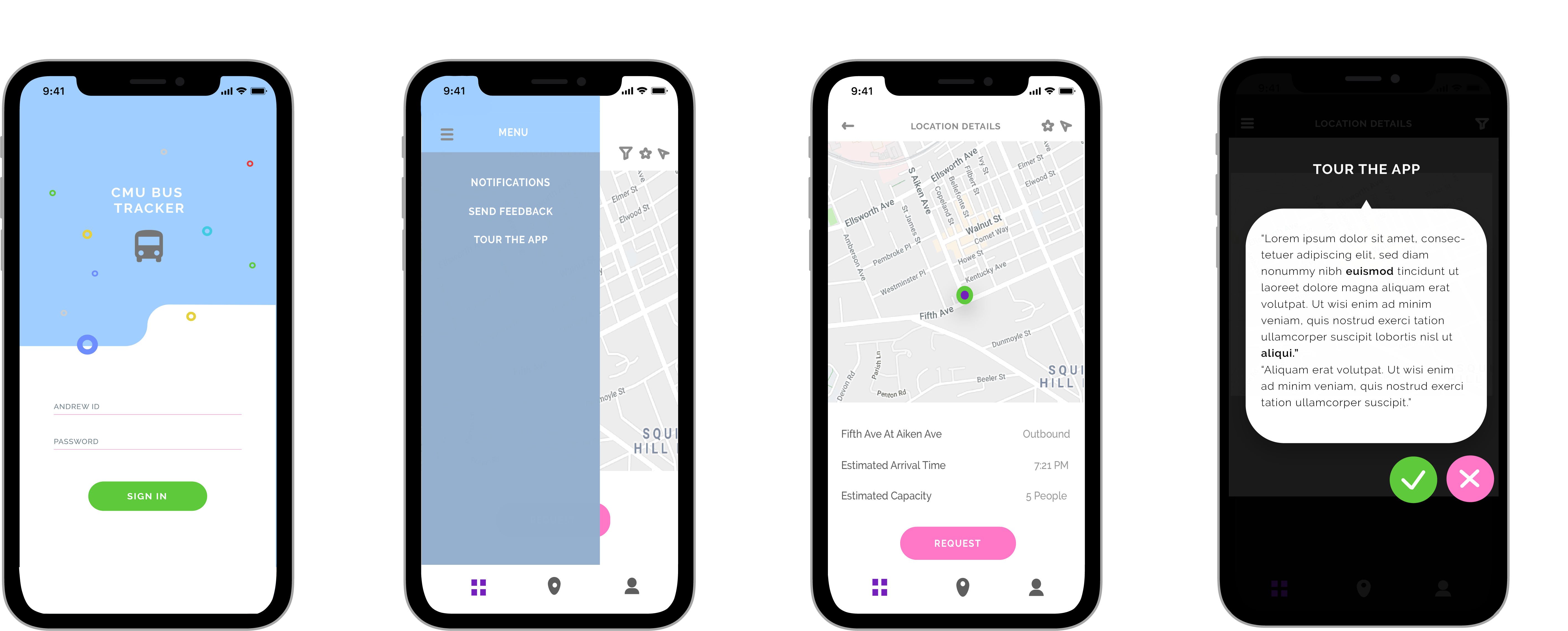 Value Proposition
Users will be able to easily commute to and from campus with the updated escort bus application.

Bus Drivers will be able to simplify routes with user information from the application.
CMU Police will be able to reduce the number of incidents that CMU students or faculty encounter while walking alone at night.
Reflection
1. By using the human-centered design approach, I was able to learn the importance of feedback and iteration to create a usable design to achieve end-user satisfaction.

2. Throughout the process, since I had to ask for feedback multiple times, I learned how to create effective user surveys.

3. Lastly, throughout the design process, I established guidelines that helped shape the direction of the redesign